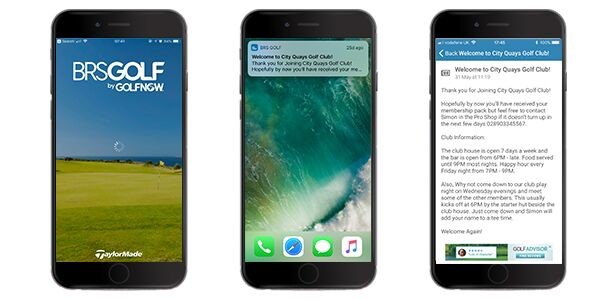 We've made some exciting changes to the BRS Golf by GolfNow Members Booking App, so now is a great time to make sure your members have it installed on their phone or tablet. Available to download for iOS and Android smart devices, the app is completely free for clubs and golfers.
Keep your members in the loop with our new 'Club Messages' functionality, found in the 'Tools' section of your BRS Golf dashboard. Save time and money on club admin and emails by quickly and easily communicating with golfers while they're at home, on the course or in the bar. Simply add your social event, competition results or course closure notice into Club Messages and, at the push of a button, your members will receive the message directly to their phone via the BRS Members Booking App.
Communicate with all your members in real-time, or send messages to segments of your membership by selecting which membership groups and types you want to receive the message. You can even push messages to members while they are out on the course and encourage them to dine at the clubhouse by teasing your dinner menu via the app
Using 'Club Messages' you can:
Push notifications to members based on membership groups and membership types.
Push notifications to members on the tee sheet on a specific day.
Send messages to members while they are on the course.
Send messages to selected members.
Send messages to all members.