To add a new Golf Package to sell through your Club Website.
1. Go to "Tools", scroll down to the "Visitor Booking" section and click on "Green Fee Rates for Visitor / Agents",
2. Select a "Start Date" and "End Date" for the rule. This is the timeframe that the rule will be active.
3. Select a "Start Time" and "End Time" for the rule. This is the range of tee times visitors will be able to book while the rule is active.
4. Enter in the Green Fee Rates for 1-Ball, 2-Ball, 3-Ball and 4-Ball. If you only want to set up a fourball offer for example, just enter a rate in the 4-ball field.
5. At the field Golf / Package, click on Golf Package to open up some additional options including Golf Package Name, Package Description, and Icons.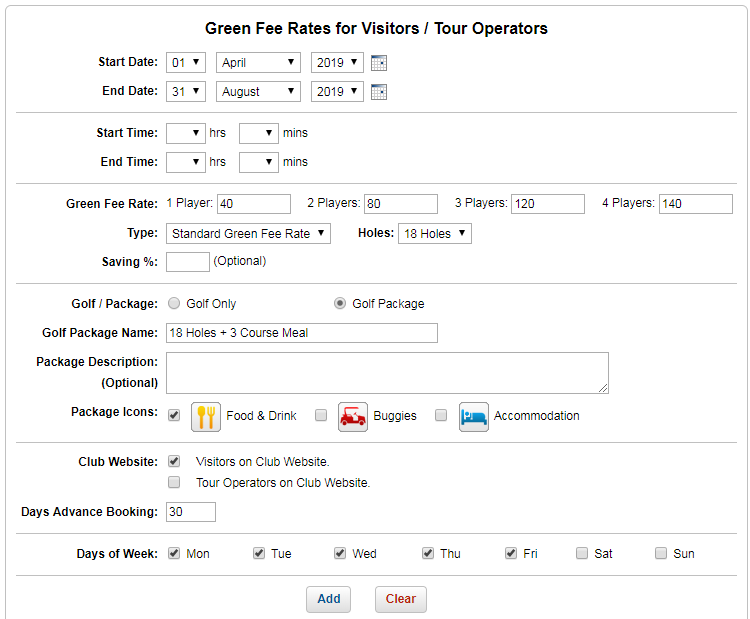 6. Golf Packages are only available via the BRS Visitor Booking Module and cannot be sold through other distribution channels including GolfNow, TeeOffTimes.co.uk, or any third party tee time platforms you may work with. Select only "Visitors on Club Website".
7. For "Days Advance Booking" select how many days in advance a booking can be made.
8. For "Days of Week" select what day(s) of the week you would like the rule to be applied to.
9. Click "Add".
Note: If you do not see the option for Golf Package, this feature can be enabled by contacting BRS Support.