New Features
General Payment Requests
Through the BRS Payments platform, it is currently possible to send payment requests to customers directly from golf bookings on the timesheet. We have added further functionality under a new Tool, called 'General Payment Requests', which gives users the option of sending payment request emails that are not specifically related to a golf booking.
Navigate to Tools > General Payment Requests. This will show you your current payment requests. Clicking 'Create Payment Request' will take you to the following screen to create the payment request.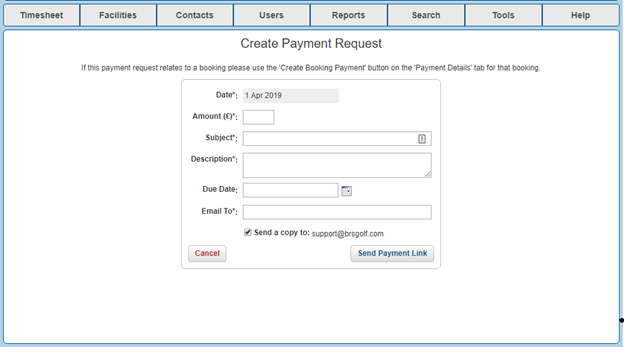 The recipient will be able to click a link in the email to pay the requested amount online. This could be used to take payment for the likes of Room Hire / Facility Hire / Golf Lessons etc.
Updates
Partial Refunds
Clubs using the BRS Payments platform can now process partial refunds. When viewing your list of transactions in the Transactions Tool, click 'More' then 'Refund'. You can now define an amount that you wish to refund to the customer. An asterisk beside a payment indicates a refund, either full or partial, has been processed on this payment.
A full list of refunds can be viewed in the dedicated 'Refunds' Tool.
Improvements
An issue that prevented clubs from signing up to the BRS Members App has been resolved.
There was a problem with customers using our Payments platform on Internet Explorer – this is no longer an issue.