Payments
Some further functionality has been added to our new Payments module, developed by BRS Golf.
Pay-by-link Emails
You can now email a customer from BRS with a payment request, and a link allowing the customer to pay this online. Navigate to the Booking Details page for a booking, open the Payments section and click on the 'New Payment' button shown in the below image.

Enter the necessary information on the next page and click 'Send Payment Link'.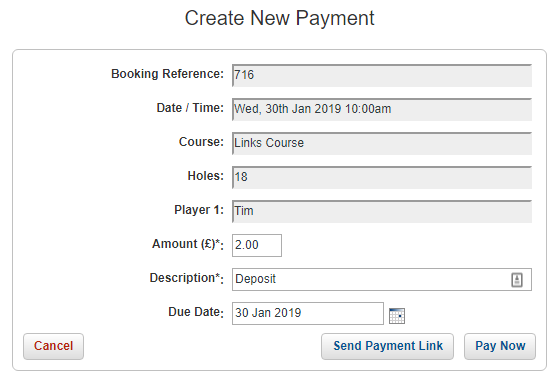 Confirm the details on the next page. When sent, the customer will receive an email with a link allowing them to pay the requested amount, along with an attached report of the details of their booking. When the customer pays the requested amount, it will be reconciled against the outstanding balance of the booking.
Please note, this feature is only available with BRS' own online payments solution and cannot be accessed with third parties such as Worldpay, Sage Pay or Realex.
Payment Confirmation Emails
When a payment is made or received using our Payments module, both the customer and club will now receive an email confirming the details of the payment.