Updates
New Course Closure Tool
Our product and technology team have been working hard to find quicker resolutions for you to manage player restrictions. We now have a tool built which will allow you to close out the entire course, or limit bookings to 1, 2 or 3 balls in only a few clicks.
The tool can be accessed within BRS by going to Tools >> Course Restriction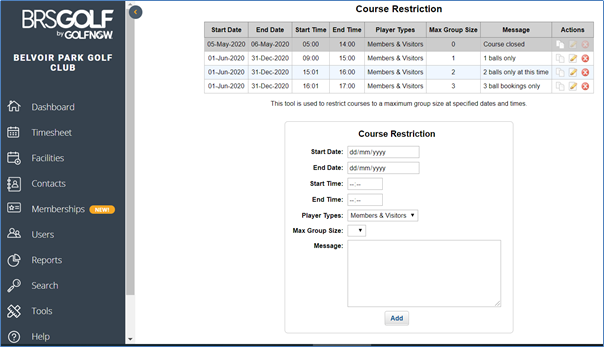 Select the dates, times, group size and players this will be applied to for your restriction.
Please ensure to include a detailed message of the restrictions so it is clear for people making the booking e.g. 2 balls only from 10am-1pm.
Once live, this will limit bookings to the group size you specify for members or visitors or both.
The tool means it is no longer necessary to block out slots on the timesheet.
Please be aware:
The tool is not compatible with any clubs using our old BRS Member Module (including the Club House PC). To upgrade for free to the new member module please contact support@brsgolf.com .
Restrictions for Open Competitions need to be applied manually.
Any restrictions are currently applied to all courses.
Course Status Indicator
Alongside the course closure tool we have added a new course status indicator. Depending on what is configured within the course closure tool, this will be reflected on via the BRS Dashboard page: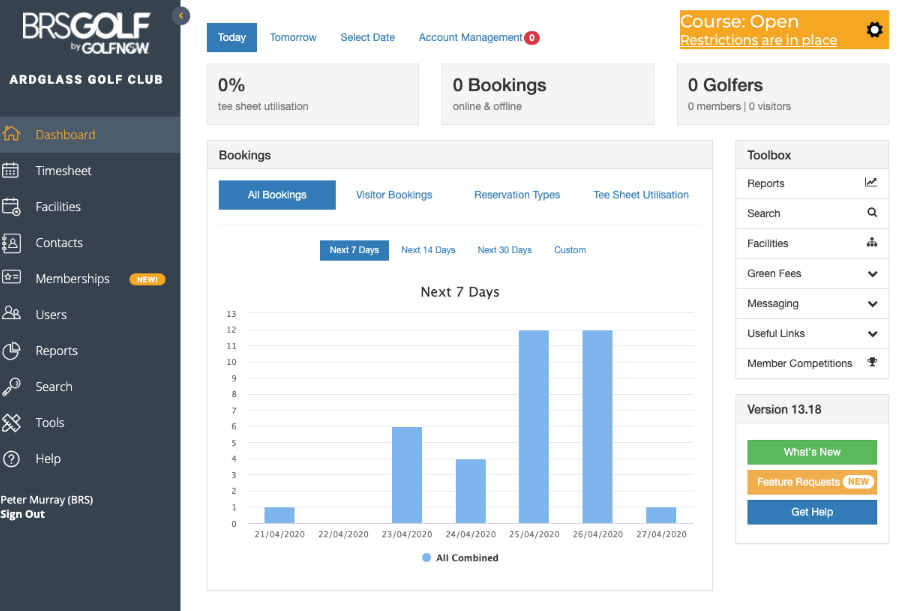 You can edit the restrictions of a course by clicking directly on the status button. This will take you to the course closure tool settings where you can update new settings.