New Features
BRS Payments - Payout Reports
We have added functionality that will allow clubs to view (and download) a breakdown of the transactions included in each weekly payout. This can be accessed in Tools > Payouts.

If you wish to view the individual transactions of each payout, you can click directly on the figure in the 'Amount' column. This will direct you to a page showing the full list of transactions, showing the transaction Amount, 'Source' (Fee / Payment / Refund etc), Description and date & time.
Each booking will have an associated fee allowing you to tally what is charged in each payout. Payouts can be downloaded as a CSV or printed by selecting the relevant button below: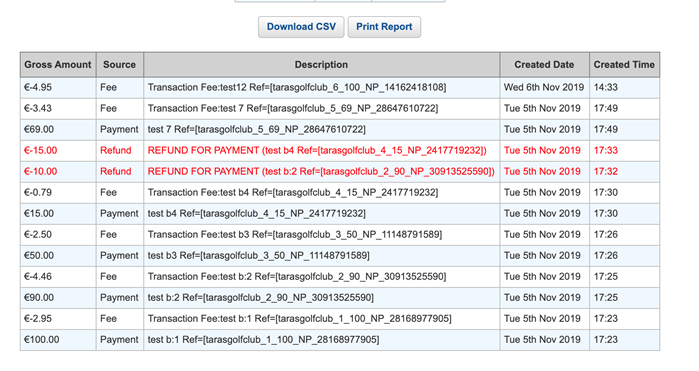 Improvements
Text Message report – the 'Status' column of this report has been showing no status. It will now be populated with the correct Status.
On BRS systems which were a 9 hole, 2x9 or 27 hole system configuration, some visitor booking confirmation emails were displaying the incorrect start time. This has been resolved.
When members were accessing BRS via a CLUB View Members Area, the BRS page wasn't always displaying correctly. This issue has been fixed, and any custom imagery / banners in place on the club's booking pages will be retained after the redirect from CLUB View.
BRS Payments - there was an issue with the 'Refund' option on a transaction in scenarios when the booking the payment is linked to had been made through the new Visitor Booking Module. This has been fixed.